Tree Planting in Mountain View, CA
Whether you want a single tree planted or dozens, Valley Tree Care Inc. is here to help. Located in Mountain View, CA, we perform Tree Planting throughout the region and can assist you with every aspect of the process, including selecting the appropriate tree, ideal placement, and even caring for the tree as it flourishes. Our company does this for both residential and commercial clients, and we charge competitive rates for these services and offer accurate and complete quotes upfront.
Adding trees is great for the environment but also an amazing benefit to your local ecosystem and the value of your home or business. We take a lot of pride in helping our customers make choices that they'll be happy with now and in the years ahead, and we plant all kinds of trees, including: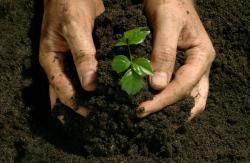 Balled

Bare root

Burlapped

Containerized
Valley Tree Care Inc. is a leading name in professional Tree Planting throughout Mountain View, CA, and we'd welcome the chance to plant one or many trees for you too. Contact us today to learn more about your options and to schedule an appointment.
Highly professional, efficient and friendly staff. An absolute pleasure to work with. They even helped us get a cat out of a tree. Highly recommended!

- Alex Dimitriu. 0/29/2020

Following a great deal of research, I interviewed six companies for bamboo removal, two of which specialize in this messy and complicated business. Bamboo is extremely invasive and fast-growing, and can easily send roots under a house, into the foundation, or into water or sewage lines. Given the seriousness of the problem, I resolved to go with the most qualified company, with less attention to price. Gary Ortega, the owner of Valley Tree Care, seemed to be the most capable and reliable of all the individuals I interviewed. He assessed the situation quickly and accurately. He presented me with the most comprehensive, detailed and effective plan for removing the rhizomes (roots) and for following up after the job was completed. Moreover, he consulted with both an arborist and a bamboo specialist to verify and refine the plan. I decided to go with Gary, Sergio, Juli and their team in despite their lack expertise in bamboo. I was not disappointed. Valley's six men showed up early and removed all vestiges of bamboo, keeping surrounding foliage intact while taking out unwanted shoots and rhizomes. Gary provided me with advice on preventing the bamboo from reappearing. He also described a "bamboo barrier" that he would install in case of another "invasion." In the end, to my astonishment, the amount they charged was considerably lower than the estimates I received from all the other companies. Remember: I chose them on the basis of competence, not price. I was impressed with all aspects of Valley Tree Care's service and support. They are your "go to" for tree service, landscaping, lawn care, and tree removal; you will not be disappointed.

I used Valley Tree Care to get rid of a forest of bamboo which grew in spot on my property. It was an all day job requiring a lot of men and pieces of equipment. They were simply excellent! Sergio was the crew boss, very pleasant man who Id be happy to hire again. Valley was one of 4 firms who bid the job, their price was not quite the lowest, but I didn't feel the lowest priced company knew what they were doing !
Mon - Fri: 9:00am - 6:00pm Sat: 11:00am - 4:00pm Sun: Closed